Any time several staff and developers contributing to CMDrupal are going to be in the same place, it's a great time to get some work done. Last week's CiviCon in Berkeley, CA was no exception.
@GinkgoFJG, @libkuman and I reviewed the scope of the MNN funded project to merging the skill based crew finding functionality of Crew Connect into the next CiviVolunteer release scheduled for late summer. The downside of these changes is that it will require members to be able to access CiviCRM to use and can no longer be enabled at the Easy version of the Community Media Starter Kit before adding CiviCRM to the configuration. Crew Connect was often seen as a reason members would actual remember their username and password and log into a site that was easier for station staff to configure that CiviCRM event registration or donations. The functionality added by leveraging CiviVolunteer and shifting the responsibility of maintaining that functionality from a community media specific feature into a general purpose volunteer management tool outweighed the easy of use argument. As a result, Crew Connect will be dropped from Starter Kits.
While not a true code sprint, @libkuman and I spent most of our time between CiviCon sessions (and even skipped a few sessions) to review the pending patches in all of the issues queues of the CMDrupal related modules.
Our goal wasn't to get every patched reviewed and committed. That is going to take weeks. Our goal was to come up with a better system of tagging issues so developers working with the larger, more directly involved stations committed to the Memorandum of Understanding (MoU) can stay on top of issues. All of the contractors now working for channelAustin, MNN, and PCM have a percentage of hours in their contracts to "contribute new features and improvements back to the community of stations using the Community Media Starter Kits". Currently all of the code that drives both the www and community sites for of these 3 organizations has been shared publicly… though some of it still as sandbox modules or code dump posted to GitHub.
As a community we actually started tagging issues back in January for developers from Zivtech. Zivtech is working on a new public facing MNN.org site. Those issues were tagged as cmd-release-blocker and focussed on issues every station runs into when starting a new site. While work arounds already existed for most of these issues, the goal was to get these resolved in code so they didn't happen again. Unfortunately no progress has been made on any of the issues since they were tagged :(
Despite that failure, @libkuman and I decided to continue using tags on Drupal.org.
@avguy created a [META] issue for all the issues he and other station staff had found testing the easy version of the Community Media Starter Kit (ESK). Meta issues can be helpful to pull together related issues, but there is no need to track all issues that way because anyone can search by a tag using the Advanced Issue Search. The link to the Advanced Issue Search can be found on the sidebar of any search page. This is not a search of just advanced issues, but a search of all issues with more advanced searching options like modules, tags, and status.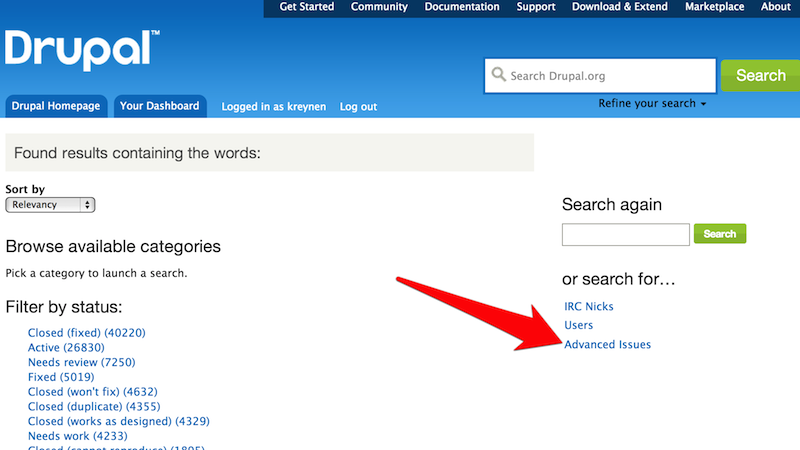 While much of the code used in the Community Media Starter Kits can be found in modules that use the cm_ prefix, there are also issues that impact community media sites in Media, Feeds, Views, CiviCRM and Drupal.org issue queues. Those issues are being tagged with just "cmd". Issues can have multiple tags as long as they are separated terms with a comma, not a space.
cmd - any issues that is impacting community media users
cmd-release-blocker - Issues preventing the Community Media Starter Kits from being publicly released on Pantheon so any station can easily use them
cmd-get-started - Issues that require less integration and CMDrupal specific knowledge. These are tasks that anyone who understands Drupal (or even just PHP) can likely contribute to.
cmd-beta-5 - These are the issues the developers working for the MoU stations are trying to resolve before the next update to the 3 versions of the Community Media Starter Kit (Easy, Moderate, Difficult)
I've posted links to this Animation of the Drupal Commerce contributions set to the Superman theme music a few times. It's always because it starts slow with the same people doing most of the work, then builds until it hits a critical mass with contributions from dozens of developers. As we reviewed the patches, it is actually pretty exciting to see how many new people are contributing...
VBO improvements to cm_airing from @hatsch
Improvements to Feeds: Cablecast from @limako
Improvements to VOD Feeds from @CHourihan
Improvements to CiviCRM Multiday Event from @IT Munger
Improvements to CiviCRM Prerequisite Check from @GinkgoFJG
Now that a working structure for building small, medium, and large community media sites exists, we are seeing more organizations start using this code. With such a small pool of potential contributors, it is even more important that existing organizations help educate new organizations on the importance of contributing to open source vs. just using it. Just using Firefox doesn't help improve it. The absolute minimum someone could do to help improve Firefox is report the issues they have back to Mozilla. That is really all we are asking station staff to do when they sign the Getting Involved - Commitment to Contribute.
Staff and developers working for the larger organizations are all committed to collaboration openly, but also to a more structured collaboration around the MoU and the Community Media Starter Kit (Difficult) or DSK. While improvements can be made to the code at any level and there are many ways other than code an organization can contribute, the code is really key. Without it, a project is just rainbows and unicorns. Key code contributions coming from channelAustin, MNN, and PCM will be implemented and tested first at the DSK level and then pulled down to the appropriate Community Media Starter Kit distribution for all other stations.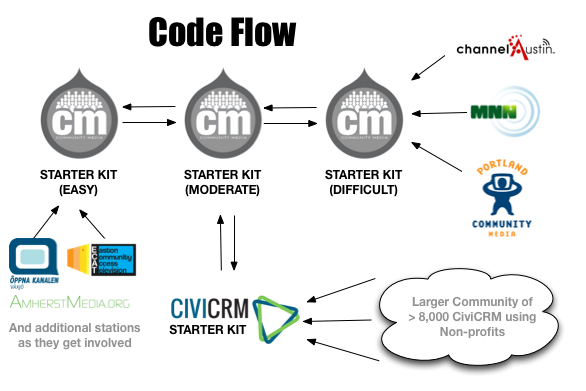 Over the next 2-3 weeks, channelAustin, MNN, and PCM will all contribute to, test and update to beta5 of DSK. That update will include dozens of patches, module improvements, and new modules. Part of the beta5 changes include changes to the Cablecast module used by PCM. While we are excited to see contributions from developers new to the project, we are sad to see @coderdan move on. While we are happy for him in his new job at Phase 2, we will miss him actively contributing to CMDrupal. The changes to Cablecast will make it compatible with the scheduling code @libkuman maintains for MNN including the Airing Grid and Timespan.
The next event that were a CMDrupal sprint will take place is the pre-DrupalCon event channelAustin is hosting May 31 & June 1. My goal is to tag additional issues, feature requests, and code that needs review at beta6 before that event and actually have more of a code sprint than a structure sprint in Austin.